On Tuesday, Puck Daddy released an article listing the top ten/eleven (Jamie Benn and Tyler Seguin were listed as an interchangeable number 6) most "absolutely awesome" choices for an NHL version of The Bachelor. While the Two Bearded Ladies support lists featuring single men in the NHL, we can't really get behind some choices here. Michael Del Zotto, for instance, was chosen solely because of harassing tweets/texts to a seemingly fantastic woman who also happens to work in the adult industry. Drew Doughty doesn't deserve love at all.
So we've made our own list of top Stars Eligible Bachelors. Included are reasons why they'd be a perfect boyfriend, as well as reasons why it might not work out for you crazy kids.
*Side note: We're unsure of the dating status of some of these players, so we've basically decided to include everyone who isn't actually bound in matrimony. We don't mean to offend anyone's girlfriend, we just mean to make jokes.
Jamie Oleksiak, a classic tall, blond, Canadian beauty. (And here we mean beauty in the "that guy's a beauty" way that hockey players do.) Has been known to grow impressive facial hair although is currently clean shaven so he no longer looks like a time traveler from the Civil War era.
Why he shouldn't: all his potential dates would have to stand on boxes
source: shattered-lens-photography
Jyrki Jokipakka has excellent potential for a pairing name. (Date a girl named Carolyn: Cyrki. Or Jyrkolyn. Date a girl named Merrin: Mryki. Or Jyrkin. THE POSSIBILITIES ARE ENDLESS.) Has a decent flow and an adorable little face.
Why he shouldn't: no one will ever be able to spell or pronounce his name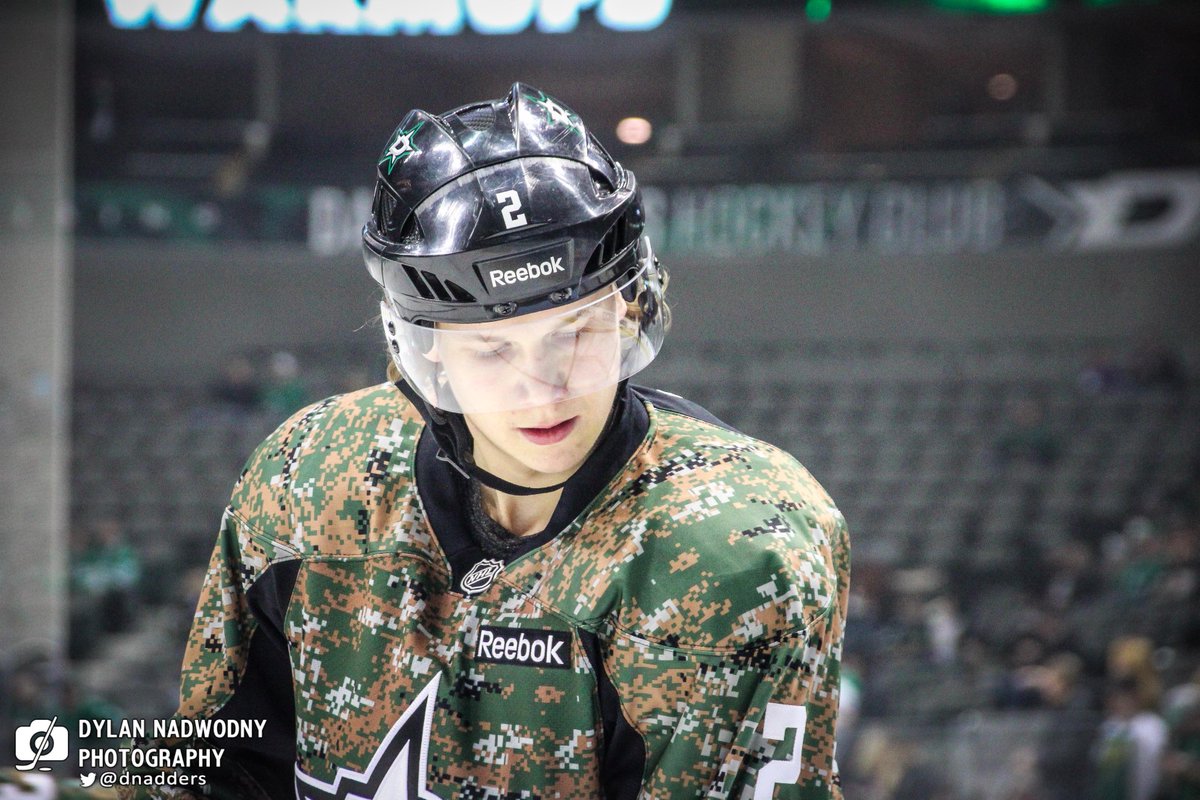 Patrik Nemeth is Swedish and everybody likes a Swede. (See also: Eddie Lack even though he is on the vile Canucks.) He's very clutch in a pinch, scored the game winner for the Calder Cup (who doesn't want to date a winner) which means he's probably great at last minute planning when things look potentially disastrous. Looks like he knows how to chop wood (and that's not a euphemism).
Why he shouldn't: Probably unwilling to take off his kevlar armor for beach dates.
John Klingberg looks like a member of the Seelie Court or like he hates dwarves for no discernible reason that anyone but the Valar remember. (Silmarillion jokes, I got 'em.) He looks like an elven prince or a fairy and who wouldn't want that kind of charm and beauty squiring you about town?
Why he shouldn't: you might wake up one day to a changeling.
(Our Klingberg is the one in the middle, and his brothers are also very dateable.)
Colton Sceviour looks like a lot like Joaquin Phoenix in Walk the Line. (Which, we guess, makes him look a lot like young Johnny Cash.) He's very well spoken in interviews which probably means he's pretty good at conversation on a first date, right? It's a little bit like an interview.
Why he shouldn't: could devolve into current unkempt, anti-personal hygiene Joaquin Phoenix
Brett Ritchie's nickname is Mutant, which could be a fun euphemism. Knows how to score, which is definitely a euphemism.
Why he shouldn't: nickname is Mutant, and there's a chance it isn't the fun kind of euphemism, or a euphemism at all.
Curtis McKenzie has an adorable little face and dimples and apparently doesn't mind being the butt of a joke.
Why he shouldn't: likely to start a fight he can't win with your ex-boyfriend who is twice his size.
source: shattered-lens-photography
Antoine Roussel is French and therefore could whisper sweet nothings in French into your ear. Even when he's speaking English, the accent is still hot.
Why he shouldn't: he probably won't take kindly to you reminding him that we helped him win WWII
source: shattered-lens-photography
Ryan Garbutt, because girl, he moves fast but he'd be really respectful of your boundaries. Isn't afraid to stand up for your honor or hold your purse while you stand up for your own. Not afraid to show his emotions.
Why he shouldn't: his nickname is ButtButt, do you really wanna marry that?
Cody Eakin is a ginger, who doesn't want to date a ginger? Red heads are universally hot.
Why he shouldn't: he might steal your soul
Jamie Benn is obviously gorgeous and tattooed and has even been recently voted one of the top ten bachelors in Dallas. The dude is built like a tank. Also is soft spoken and respectful, would probably do well with your parents.
Why he shouldn't: you'd literally have to date Tyler Seguin at the same time. (that might not be an issue for you? actually, I can't think why that would be an issue for anyone.)
photo by Kristi and Scott Redman
Tyler Seguin knows how to show a girl a good time. Have you seen his abs? I have. They're on his official website. He also coos over dogs and children which indicates he has good potential as a family man.
Why he shouldn't: you'd literally have to date Jamie Benn (and Tyler Brown, and Jesse Blacker, and Freddy Bender, and . . . .(you get the idea)) at the same time.
source: shattered-lens-photography
Jordie Benn, like his brother, is also built like a tank. Probably the most impressive facial hair you will ever meet in real life. Likes the outdoors, if the selfies he's taken with bears (actual bears) are any indication.
Why he shouldn't: it's kinda hard to make out with that much beard.
(ps the National Forest Service asks people to please stop taking selfies with bears.
Don't let Jordie convince you to do this on your date.)
Jason Demers has an excellent sense of humor. He's probably the cutest and giggliest dude on a team of a lot of cute and giggly dudes. (Seriously though, this team giggles so much.) Would be a good one to take home to mom. Speaks fluent French. Has told the world that he's ready for a real relationship.
Why he shouldn't: there is no reason. He is literally the most dateable Star.
So, who do you give a rose to?