If you're like us, you don't follow much amateur hockey, so while the draft is exciting it's more of a spectacle than anything. With that in mind, we thought we'd take it upon ourselves to do some research on the top ten prospects and help our readers know what to look for when the worst teams step up to the mic on Friday night.
This "Top 10" prospect ranking is from TSN, because Central Scouting divides their prospect list into North American skaters and International skaters, with an entirely separate list for goalies. Also, we like it because Uncle Bob McKenzie has a good eye for talent, and the other very comprehensive list is ESPN's, and well, do we really trust their hockey coverage? (No. No is the answer.)
Anyway, let's kick things off, shall we?
Connor McDavid – C
"Generational talent." "Face of a franchise." "The Next Sidney Crosby." "Heir to the Bieber Hair." Connor McDavid is everyone's number one pick with talent for days. While it's almost a lock that he's going to the Edmonton "Never Met A First Round Pick We Couldn't Drain of Their Joy and Vitality" Oilers Friday night, many teams are salivating over the idea of a blockbuster trade for this once-in-a-decade player.
Why You Should Draft Him: What part of "Generational Talent" didn't you understand?
Why You Should Pass: He already likes to lurk in empty hallways. The next step in emo-evolution, emolution if you will, is writing bad poetry, and no one needs to be subjected to that.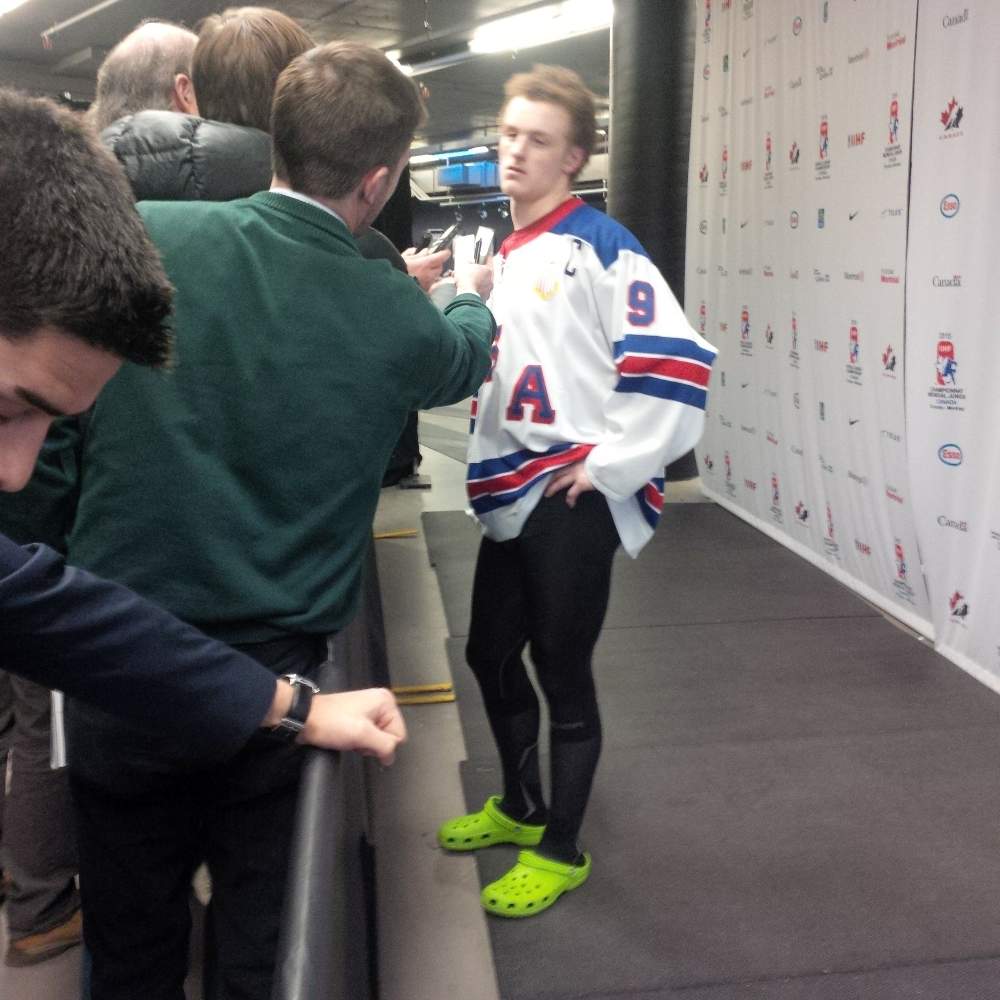 Jack Eichel – C
The consensus 2nd overall pick is Jack Eichel, an American playing at Boston University, who just happens to have the bad luck of being born into the same draft class as McDavid. Eichel earned himself an invite to the world championships this spring where he and the rest of Team USA took home an (unexpected) bronze medal. He is also the sassiest of prospects, gifting Don "I Wish They All Could Be Canadian Boys" Cherry with a Team USA Golf Shirt.
Why You Should Draft Him: In any other year, he'd go first overall
Why You Should Pass: To avoid the inevitable "You never really wanted me! I'm just your consolation prize!" conversation.
Noah Hanifin – D
The highest ranked defensive prospect in this year's draft class, Noah Hanifin, is another Bahhhhston boy, playing out of BC. Hanifin compares his game to Duncan Keith, a two way defenseman who likes to create offense, and with 0.63 points per game, he has the stats to back it up even if he hasn't quite earned the T-1000 label of his idol.
Why You Should Draft Him: Every team needs an offense-minded Dman these days
Why You Should Pass: May take the Keith admiration too far. Be wary of the following signs: sudden interest in serial killers, refusal to leave the ice, cybernetic body enhancements.
Mitch Marner -C/RW
One of the three players with experience on the wing in the top ten, Marner finished 2nd in OHL scoring (behind prospect Dylan Strome) this year. He's credited with exceptional creativity and poise, like a hockey playing Oscar Wilde, with TSN calling him "the best winger in the draft." He's 5'11 and only 160, making him the smallest prospect in the top ten, but his skill and hockey IQ more than make up for it.
Why You Should Draft Him: Every top line needs a dynamic passer.
Why You Should Pass: He's already written his rap for Holiday Sweater Pt 2.
Dylan Strome – C
The OHL's leading scorer, the Erie Otter's second line center is often known as Connor McDavid's teammate. Just kidding, he has a name. Probably. It's fine. He's not bitter. For real though, he's an elite player in his own right and he took home the "OHL Most Sportsmanlike Player of the Year" trophy in addition to his scoring title.
Why You Should Draft Him: Top 6 Centers don't just grow on trees.
Why You Should Pass: He might go full Kenny Powers. You should never go full Kenny Powers.
Pavel Zacha – C
A Czech center in the OHL, Zacha's talents might be better suited to playing on the wing. While he is just now 18, he spent most of 2013-14 playing on the Liberec Tigers – a men's team in the Czech Republic where he looked at his older teammates with wide-eyed admiration. In particular, he hit it off with 43 yr old Petr Nedved who mentored him on and off the ice.
Why You Should Draft Him: As Stars fans well know, talented centers who can also play on the wing are invaluable.
Why You Should Pass: Will probably try to convince you to trade for Jagr. Do it. Do it for the vine.
Lawson Crouse – LW
A subject of much debate, Crouse was initially thought of as a top 4 prospect, but now that the season's over, he can be found on rankings anywhere from #4 to falling out of the top 10. His size is often commented on as his biggest asset, at 6'4″ and 215. As an 18 yr old. No, we're not kidding. Yes, that probably led to some awkward locker room conversations. He also put up 1.25 points per game, though that seems low when compared to his league-mates McDavid, Marner & Strome.
Why You Should Draft Him: Power Forward ~Of the Future~
Why You Should Pass: As the Bearded Ladies can confirm, size isn't everything.
Ivan Provorov – D
A solid defensive prospect, Provorov put up over a point per game in the WHL, and was also the youngest member of Russia's World Junior Championship silver medal team. His vision and poise make him a threat, like a sleek Russian panther who can't grow facial hair. He's quick to take advantage of the competition's weaknesses either on offense or defense.
Why You Should Draft Him: A Dman who can force turnovers and won't give the puck away? Yes please.
Why You Should Pass: His favorite actor is Adam Sandler. Let that sink in for a minute.
Mathew Barzal – C
Another center, Mathew "Only One T" Barzal's rank fluctuates depending on who you're listening to, but always around the #10 spot. He "knee"ds to stay healthy to have an impact in the "kNHL", or else he won't find himself a train"knee" for long. (Any guesses on his injury history?) Another smaller forward at 5'11" and 175, he is probably one of the best skaters in the group, able to use his skills to create mismatches and rushes.
Why You Should Draft Him: It's the year of the sneaky good forward (*cough*Tyler Johnson*cough*)
Why You Should Pass: As a self professed "student of the game" he could easily be that guy nitpicking all your fun hockey trivia. #ravenclaw
Mikko Rantanen – RW
Ranked as the #1 International Skater by Central Scouting, Rantanen is a Finnish prospect known for his playmaking abilities. Rantanen has the benefit of having played in the Finnish pro league, and has held his own against vets with both years and pounds on him. He has the same kind of size as Lawson Crouse at 6'4″ and 211, but the speed and skating of a more "skill" player, being compared to the Ranger's Kevin Hayes. Judging by the upkeep of his own mane, Rantanen might prefer the comparison to his favorite athlete, Cristiano Ronaldo. Or perhaps he would rather challenge Galadriel for title of "Fairest of All the Elves".
Why You Should Draft Him: "Why would anyone pass on a big, skilled winger?" the Stars Fan asks.
Why You Should Pass: Might spend more time perfecting his flow than his shot.