With Eaves and McKenzie out for a while and Hemsky having resurgent hip trouble, the Ladies decided it would be a good idea to make sure everyone knows who these fresh young faces are in the line up. Jersey numbers are rough, y'all, and I had a few moments myself this season. "Wait, who do we have that wears 13????"
To that end, we're gonna take a closer look at the players who've had 25 or fewer games with the big boys. And because it's us, it'll be 2BL style.
Radek Faksa
(Faksa is the one on the right)(Obvs.)
You may remember Faksa as the one voted "Most Likely to Own a Herd of Fainting Goats" in the Texas Stars Yearbook last season. Nothing I've seen so far this season has led me to question that eventual future for him.
If you haven't seen this, you should watch the video TSN put together about his development years in the Czech Republic, leaving home at the age of 11 to play hockey.
Roster number: 12
How he came to us: Dallas drafted him 13th overall in 2012
Things we like about him: he drives possession, he's got good skills with the puck, he reads the ice well, and he isn't prone to taking stupid penalties. Also he was a part of the Texas Stars team that brought the Calder Cup to Cedar Park.
Things we know about him: fosters dogs in his spare time
Texas naturalization status: owns this outfit, at least
Mattias Janmark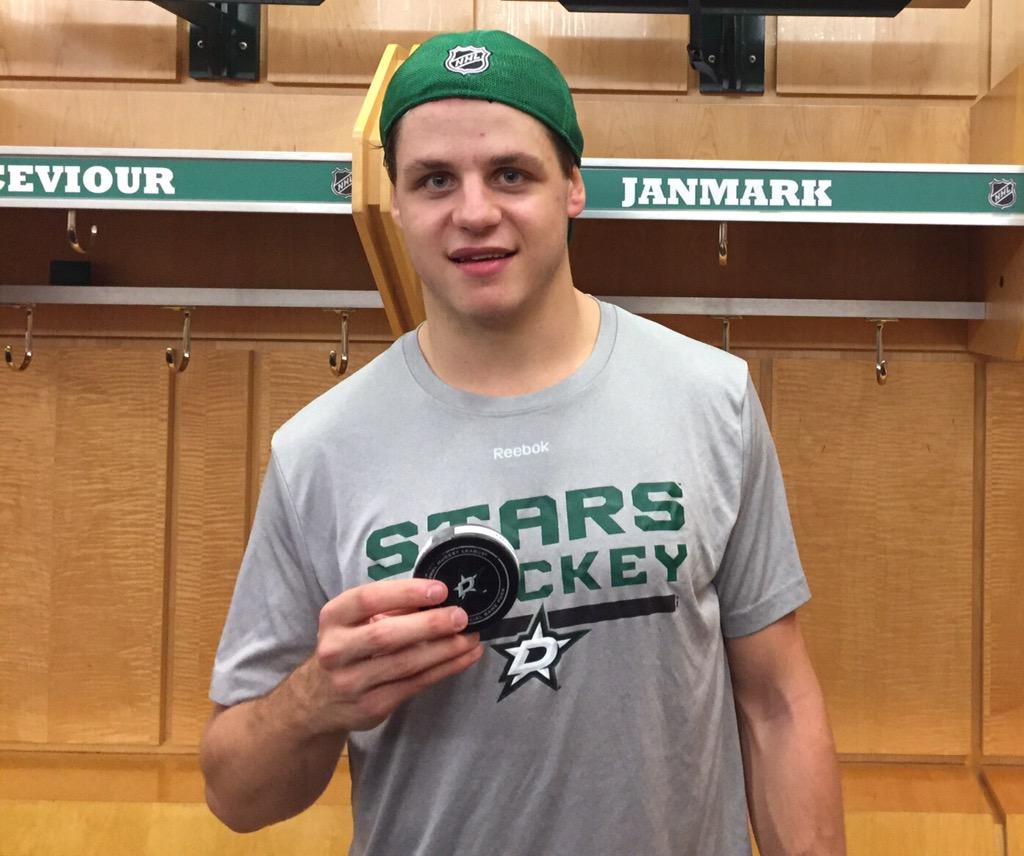 It's not every day a rookie scores on their first shift, first shot of their first game, but that's exactly what Mattias Janmark did in Dallas' first game of the season.
I don't know if just, no one on the Pens was expecting the tiny child to score or what, but even with Perron trying to hook him from behind, that goal was such a beauty. He's gone on to play 12 more games with the Stars, and is currently at 6 points (3 goals, 3 assists) for the season.
Roster number: 13
How he came to us: with Mattias Backman in the Cole trade (we definitely came out on top of that one, sorry Cole)
Things we like about him: well his point production so far, always nice to have depth scoring.
Things we know about him: I can't read the caption but I think he likes Mumford and Sons (hey me too, Mattias!!!)
Texas naturalization status: he top golfs? honestly I don't think he knows what salsa is.

Devin Shore
Unless you live in Cedar Park and/or pay attention to either Texas Stars games or the University of Maine, it's unlikely you've heard of Devin Shore yet. He has played precisely one game for us (the last one, against the Bruins), logging 11 minutes of ice time and no points. But! He has been tearing it UP in Cedar Park, currently 11 points in 9 games played, which earned him AHL player of the month for October.
So, like. It's coming. He'll be fine.
Roster number: 17
How he came to us: drafted 2012 (same as Faksa!) 61st overall
Things we like about him: so far? his dimples. 11 minutes of game play is not a lot to go on. 

Things we know about him: he screams for ice cream
Texas naturalization status: well. he likes to fish?
People not named Carolyn don't need to read past this point.
Val Nichushkin
You may remember him from his actual rookie season, where he played 79 games, scored 14 goals, played on a line with Jamie and Tyler?

source: thetroublewithtyler
Although they sometimes forgot he existed too. (Poor Val.)
You can also see him saying . . . Happy New Year? I think? in Russian on the Dallas Stars holiday video from that year:
Notable because Tyler Seguin is (as always) incapable of keeping a straight face.
He missed all but 8 games of last season for hip surgery and has had an uncertain start to the season, bounced all over the line up and scratched for a few games. He hasn't scored yet (soooooo snakebit) even though he had a dazzling opportunity on a penalty shot against Toronto (damn that forcefield!) but he does have two assists on the season so far.
Roster number: 43
How he came to us: drafted 10th overall in 2013
Things we like about him: his size and speed.
Things we know about him: has a thing for cars and cats
Texas naturalization status: he owns this bathing suit